Welcome to BUST, the Breast Cancer Unit Support Trust, the Bristol based charity founded by patients for patients to support the work of the Bristol Breast Care Centre at Southmead Hospital.
In 2013, The Southmead Breast Care Centre was expanded to include the United Hospitals Bristol staff and patients. The clinical teams are now working together to create a Centre of Excellence for breast care in Bristol and the surrounding areas.
Over 22,000 patients per year attend the Bristol Breast Care Centre, including a significant number of male patients. The numbers will continue to grow in line with the increased awareness of breast disease, especially in younger women.
BUST is pleased to support the important work of this excellent team by raising money to support innovation and purchase of new technology, such as state-of-the-art scanners, before it is available through the NHS. BUST has raised more than £1,175,000 and every penny has been spent supporting patient care. As well as providing equipment BUST is also contributing towards pioneering surgery.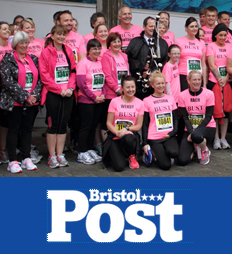 AN INCREDIBLE £14,262 has been raised so far for breast cancer sufferers by a team of runners who took part in the Bristol 10k.

The group, whose ages ranged from 15 to 62 took on the race in aid of local breast cancer charity Bust (Breast Cancer Unit Support Trust) , based at Southmead Hospital.
The organisation supports people with the illness as well as raising money to fund equipment and research.
Volunteer Liz Blakeborough said the final 3km on Sunday were the most challenging.
BUST DANCERS WIN 5000 EUROS PRIZE
BUST Committee members, supporters and medical staff at South-mead Hospital's Breast Care Unit have celebrated their 5000 Euros prize for winning second place in the first European Pink Glove Dance contest.

Click here to find out more or download our PDF here
donations so far
£1,175,000
Aiming for our £1.5 million milestone
READ MORE
Latest news and updates
http://www.bbc.co.uk/programmes/p02p8cnw Listen 'again' to Mr Simon Cawthorn talking about BUST, the Bristol 10k and the Bristol Breast Care Unit on Phil Hammond's Saturday Morning Show. The programme started at 9am and you need to drag the pointer to 1 hour and 9 minutes into the show. Many thanks Simon. read more
News Update: A tremendous £625 was raised from the raffle by Joan and Patricia. The raffle was won by Danny, who was delighted!! Many thanks to Joan and Patricia who worked very hard for all four days of the exhibition at Kingston Seymoor. Thanks to their friend Di Hollis too, a friend from the Bristol... read more
The lovely ladies of the Wotton Ladies Circle held a very successful ball on Saturday 28th March at Tortworth Court Hotel raising a fantastic sum of £1000 for their two charities, BUST and Rethink. Many thanks to all the organisers and those who contributed to the very successful evening. Well done... read more
Dawn Hardwick's Ball raised an amazing £1000 for BUST, thanks to all concerned and especially Dawn herself. Photos follow shortly!! read more
Thank you all who attended the cinema night at Wotton Electric Picture House! The Second Best Exotic Marigold Hotel was a great success and we raised a fantastic £1,500 and may be able to add to this total with some matched funding! The Apple Watch was won by Abigail Barrett who works as a radiographer in the Breast... read more