Harry Runs 100 - Article by Trevor Mason -Under-the-edge media
Gloucestershire runner completes Cotswold Way in four days to raise money for BUST
A runner from Gloucestershire has completed the equivalent of nearly four marathons in as many days by running the entire length of the Cotswold Way to raise money for a cancer charity.
24 year old Harry Morgan from Wotton-under-Edge in Gloucestershire completed the 102 mile course in just four days.
He raised £3120 to provide vital lifesaving equipment for the breast cancer charity BUST which is based at Southmead Hospital in Bristol.
This was his way of thanking the medical staff who treated his mother who was diagnosed with, and successfully treated for, breast cancer a couple of years ago.
Speaking of his tremendous achievement Harry said: "When I looked it up I found out that only five of the 102 miles that the route covers are flat.
"Add to that the fact that for many of the hours running I was on my own makes me extra proud to have completed this challenge for the people who effectively saved my mother's life."
Cheered on by family and friends, some of whom ran parts of the course with him, Harry arrived tired but elated at Bath Abbey on the day after his 24th birthday which meant that there was a double celebration when he got home.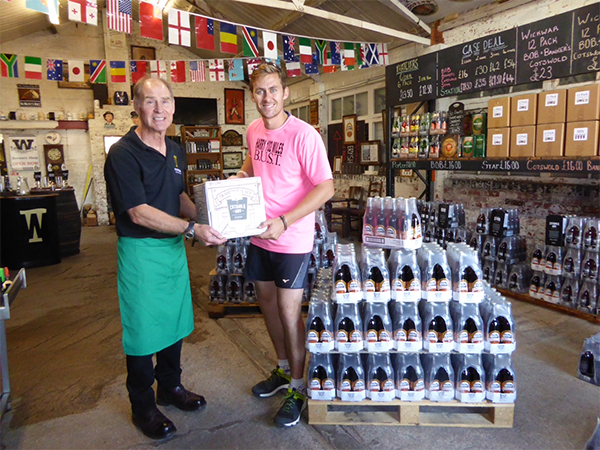 And to help him celebrate, Wickwar Brewery generously donated some of their appropriately named 'Cotswold Way' ale.
Anyone who would like to add to Harry's total can do by visiting the website: www.justgiving.com/harryruns100
In addition, there are two videos on YouTube compiled by a prize winning videographer friend of Harry's, Matt Buckner, which show him training for the run. They can be found by typing in 'Harry runs 100'.
Posted 3 October 2015


Harry Morgan will today complete his 102 mile Marathon, running the Cotswold Way for BUST. He will finish at Bath Abbey between 1.30 and 2pm and we would love you to be there to cheer him in!
Harry even ran his way through his birthday yesterday, and looked pretty tired by the end of it.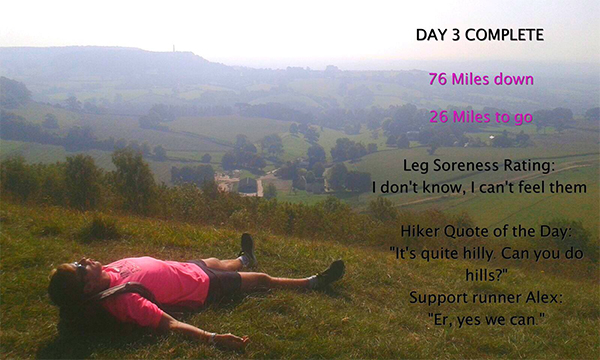 DAY ONE STARTS HERE!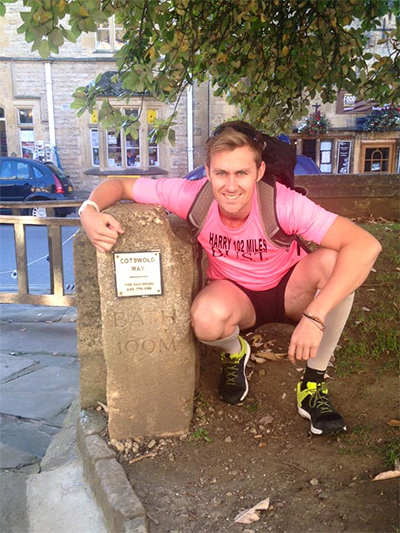 COMMENTS AT THE END OF DAY 1
If you are able to please support Harry on Justgiving: - www.justgiving.com/harryruns100
For those of you following Harry's progress, here is the final film we have to show you before he sets off on this massive challenge.
If you are able to catch Harry along the way and cheer him on, here are the places to catch up with him:
The 102 Mile Challenge. 4-day plan.
(N.B.This is a rough plan and details are subject to change.)
Day 1: Wednesday 30th September:
Chipping Camden to The Masts (26 miles)
Times:
Chipping Camden, 9am
Cleeve Hill, 2.30pm
Chipping Campden to Broadway - 6 miles (9.6 Km)
Broadway to Wood Stanway - 6.5 miles (10.5 Km)
Wood Stanway to Winchcombe - 5.4 miles (8.8 Km)
Winchcombe to The Masts - 7.6 miles (9 Km)
Day 2: Thursday 1st October
The Masts to Haresfield Beacon (25 miles)
Times:
Cleeve Hill, 9am
Edge, 2.30pm
The Masts to Dowdeswell - 5.5 miles (8.9 Km)
Dowdeswell to Leckhampton Hill - 4.7 miles (7.6 Km)
Leckhampton Hill to Birdlip - 5.6 miles (9 Km)
Birdlip to Painswick to Haresfield Beacon - 8.6 miles (13.9 Km)
Day 3: Friday 2nd October (Harry's birthday!)
Haresfield Beacon to Alderley (26 miles)
Times:
Painswick, 9am
Alderley, 2.30pm
Haresfield Beacon to King's Stanley - 7.8 miles (12.6 Km)
King's Stanley to Dursley - 7.2 miles (11.6 Km)
Dursley to Wotton-Under-Edge - 7.3 miles (11.8 Km); shortcut 4.8 miles (7.8 Km)
Wotton-under-Edge to Alderley - 5.4 miles (11.9 Km)
Day 4: Saturday 3rd October
Alderley to Bath Abbey (25 miles)
Times:
Alderley, 8am
Bath Abbey, 2pm
Alderley to Hawkesbury Upton - 3 miles (4.9 Km)
Hawkesbury Upton to Tormarton - 7.7 miles (12.4 Km)
Tormarton to Cold Ashton - 6.6 miles (10.6 Km)
Cold Ashton to Bath - 10.2 miles (16.5K)
Mobile no: 07551 992915
Email: [email protected]
EARLIER HARRY TOLD US:
In September 2015 Harry Morgan is intending to run The Cotswold Way over a period of just four days, that is almost a marathon per day!
Harry contacted BUST in June to tell us:
" My name is Harry Morgan and I wish to raise money for BUST. My mother was cared for during her experience with breast cancer as a result of the hard work of BUST.
I am a keen runner and around late August/early September I wish to run the entire Cotswold Way (103 miles) in four days to raise money for BUST"
Since then Harry has been busy with his friend Matthew Buckner and they have made a brilliant video outlining Harry's event and reasons for running. Please DO view it and pass it on, and if you can, make a donation. No more needed from us, Harry sums it up so well!!
https://www.youtube.com/watch?v=R5Hb5aCaNtI
Harry's Just Giving site is:
https://www.justgiving.com/harryruns100
Go Harry, we are all behind you!!!
donations so far
£1,719.557
Aiming for our £2 million milestone
READ MORE