London Marathon - Ian Goodband Update
Congratulations Ian on running the London Marathon in 3:19.01 and raising funds of £1320.00 for BUST.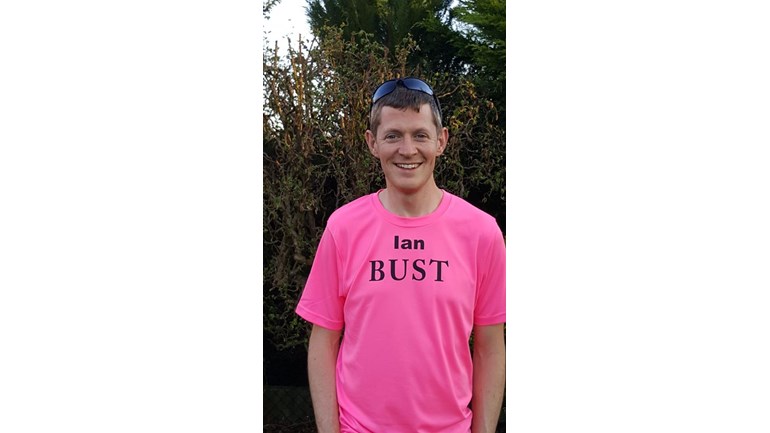 See below - Ian tells his story .........In June 2017, my cousin Ali found a lump in her breast while feeding her young son. Within a month, her world was turned upside down, with the confirmation that she had breast cancer. With a two year old daughter, and a son of only three months, the prospect of treatment was a hugely daunting one.

Through her determination, and the love and support of her partner, family and friends, Ali has endured the arduous regime of cancer treatment, and continues her journey back to full health.

I wanted to dedicate my running of the London Marathon to Ali's journey, because no matter how hard it may feel at times on the course, it will be nothing compared to the real life challenges that she has had to face. I am therefore raising money for the Breast Cancer Unit Support Trust (BUST), a Bristol-based charity which supports patients of Southmead Hospital Breast Care Centre.
Ali found the waiting for appointments and scans, to determine her prognosis and a plan of treatment, to be the worst part of the whole process. B.U.S.T. is committed to funding a new MRI scanner, with the potential to reduce the wait that patients have to endure before a treatment plan can be decided upon.
Please give generously and help me to support one wonderful charity, and one amazing individual!
If you would like to support Ian this is the link to his Justgiving page:
https://www.justgiving.com/fundraising/iangoodband
Everybody on the BUST team wishes you a fantastic run on Sunday Ian and thanks to your supporters for their generous contributions.
donations so far
£1,984,215
Aiming for our £2 million milestone
READ MORE